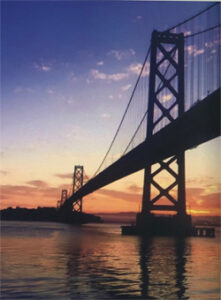 On July 31, 2016, it was the predawn morning of the San Francisco Marathon; it was my son's first marathon and time to head to the city. There was a coolness in the air that morning, and it would not be extremely hot that day. So, a good day to run. He would run wearing the tee shirt that I was given for finishing my first marathon forty years earlier. It was also my first San Francisco Marathon.
When we arrived, it was still dark as we drove around looking for a place to park. Thousands of runners with their family and friends were making their way to where the runners check-in. It all added to the excitement of the day. my son and I joined the flow of humanity. I could feel his nervousness , and I stopped. Feeling immensely proud of my son and trying to conceal my emotions, I wished him a good run.
As he disappeared into the crowd, I walked to a quiet place to deal with my feelings. I stood at the edge of San Francisco Bay, thinking of my first marathon. It seemed like it was only yesterday. When did this boy, my youngest, sneak past me and become a man? It was the first time I realized my generation was replaced by a new one.
As I was dealing with my thoughts, the sun began to rise over the east bay. Bringing with it all the beauty and hope of a new day and new generation. I took my phone and captured the photograph thinking of Ernest Hemmingway and his book. The Sun Also Rises.