A Life Separate: Together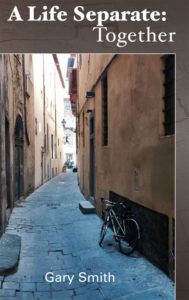 Gary Smith, Photographer, and author of The Willing, uses his unique perspective and well-honed instincts to take us on a journey replete with vivid descriptions of the beauty and culture of Northern Italy.
"Real life" fictional character Warren Steelgrave has settled into his author's persona amongst new-found relatives and friends in a small village in Northern Italy. After three years, his possible soulmate and object of romantic memories, Cindy O'Brian comes back into his life. New adventures unfold involving the son of an old friend and the intrigue of the FBI, a crime family, and a long-lost secret for Nicola Tesla's "death ray"
Warren is again "willing" to put his life on the line, but can Cindy accept the realization that the man she loves will always "live a life separate" even if they are together? While they are back in the United States, with trouble in tow, his eldest daughter adds insight when she tells Cindy "welcome to Warren's world."
Perhaps the safest place to enjoy the unfolding of events is from a safe distance as the reader of Mr. Smith's newest novel.
- Ken Meirovitz
"A Life Separate: Together is a novel of intrigue written by Gary Smith. Although this book is written as a sequel/companion piece to his earlier novel, The Willing, Smith provides enough background information for this book to be enjoyed as a standalone novel. Warren Steelgrave was thrilled to be back with Cindy again after their three years apart. He had settled in the small Italian village of Varni, which had been the home of his great-grandfather, and lived there for six months each year. While sitting at the Bar Pasticceria Cabosse the morning before, he looked up and saw her standing there. She was now divorced and had come to Italy to find him. They spent the day exploring the area and dining, and then the night in each other's arms. Could this possibly work, he wondered. Their first adventure was to the Gran San Bernardo Pass, and they toured the monastery where the famous dogs are still raised and trained, but Warren began to notice that they were being tailed.

Gary Smith's novel of intrigue, A Life Separate: Together, immediately grabbed my attention with the incredible photographs of Varni, Gran San Bernardo and the other sights Warren and Cindy explored. I love travel fiction and found plenty in both the writing and those photographs to keep me happily engaged. There's also a cracking good plot surrounding the famous lost papers of Nikola Tesla and Warren's friend's son, who had finally found them and had been kidnapped. Watching as Warren and Cindy interact as a team, even after their three years apart, was a joy, and made me wonder if Smith has future adventures for the two of them in mind. A Life Separate: Together is action-packed, suspenseful and fun, and it's most highly recommended." - Jack Magnus
"The characters are realistic. The plot is well thought out and executed. There are surprises and twists that make the reader want to keep reading. The book is short enough to be read at one sitting and then make you want more. I do hope Gary Smith will write a sequel to this book. It is a very enjoyable book." - P. Blevins
"This book is for both men and women with a content that feeds the hunger of action and emotion. I enjoyed the personal reflection of the main character as well as the forward motion that is living and going after adventure for a life time and not just as a season in ones life. I love Italy and enjoyed the descriptives of the Italian way of life and culture. The story keeps you engaged, even when you have to put it down to complete a task you keep waiting for the moment you can pick it back up and continue the adventure..." - J. Edgar
Thirty-five Years : A Retrospective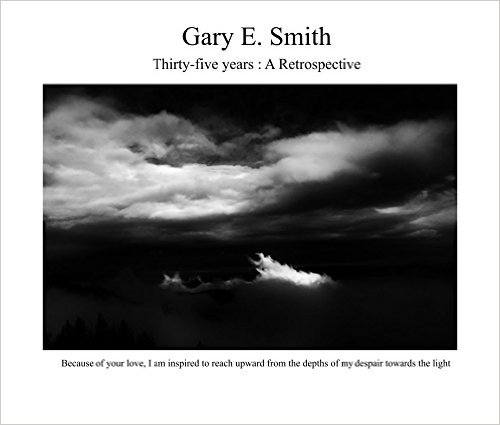 In 1980 I started using a 35mm single reflex Pentax. In 1981, I received my first recognition with a first place award in a small photo contest.
In 1983 I submitted my work to the Friends of Photography and I was accepted into Ansel Adams workshop. The week I spent with Ansel Adams, Ruth Bernard, Lucien Clergue, Jay Dusard and others changed not only my view of my photography, but my view of life and my place in it.
I thought it would be interesting to compare my new photos; with photos taken and printed thirty-five years ago, and see how much my vision of the world has changed. All art is a form of communication, and I have used imagery to represent the feelings, ideas inspiration, and spiritual bond to communicate what I was feeling when at the moment I had taken the photographs.